Healthy, lean Grilled Swordfish is easy to make and perfect for a quick summer dinner. You'll love the savory, lemon-herb marinade with garlic and black pepper!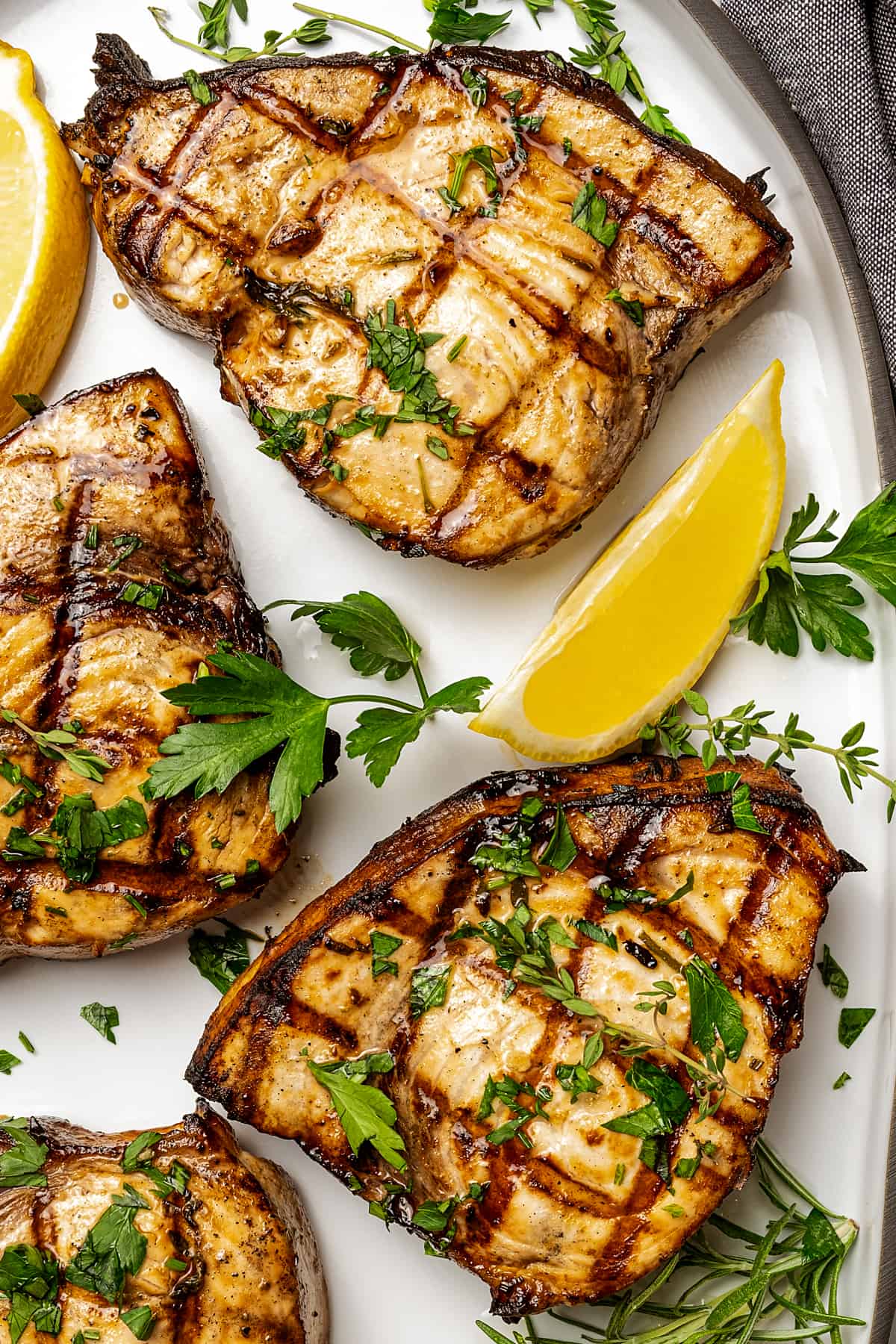 Juicy Swordfish Steaks with Lemon, Pepper, and Fresh Herbs
If you like a robust fish steak, this simple swordfish recipe might just become your new favorite! It's dressed with a simple marinade that delivers fresh, complex flavor: olive oil, lemon, red wine vinegar, herbs, black pepper… are you drooling yet? Seriously, this easy grilling recipe is enough to make even the most die-hard seafood resisters a total believer.
I also love this recipe because it's quick. Throw the steaks in your marinade for about half an hour, and then you're ready to grill. 
What You'll Need
Let's take a closer look at the list of ingredients. Most of these are ordinary spices and items you probably have on hand, plus the swordfish fillets:
Swordfish: Look for center-cut swordfish steaks, about 4 to 6 ounces each. The reddish parts of the fillets should be scarlet (not brown), indicating freshness.
Olive Oil: Extra virgin olive oil has the boldest taste.
Garlic: Fresh, minced garlic cloves give the marinade a savory flavor.
Soy Sauce: For an extra umami kick. Tamari and coconut aminos are great substitutes.
Lemon Juice: Fresh lemon juice is best, but bottled is also fine.
Red Wine Vinegar: White wine vinegar can also be used.
Rosemary and Thyme: I prefer fresh, but dried can be substituted in a pinch. Remember that you only need ¼ to ⅓ the amount, if you use dried instead of fresh.
Salt and Pepper: To taste.  
Parsley and Lemon Wedges: Freshly chopped parsley makes the perfect garnish, while lemon wedges are great for serving seafood. Both are optional.
Is Swordfish a Healthy Fish to Eat?
Swordfish is high in protein, and contains lots of great nutrients like selenium, B vitamins, zinc, and more. However, it can sometimes be high in mercury, so it's best to enjoy it once a week or less, similar to tuna. The FDA advises children and pregnant women and to skip the swordfish.
Let's Grill Some Swordfish!
Grilling tends to be quick anyway, but grilling fish is extra fast! So it can be helpful to make sure your sides are ready, or nearly ready, before you put the fish on the grill. 
Marinate the Swordfish Steaks. To start, place the steaks in a large bowl or a zip top bag. Combine the olive oil, garlic, soy sauce, lemon juice, red wine vinegar, rosemary, thyme, salt, and pepper in a bowl and give it a good whisk. Pour the marinade over the fish, and cover/seal. Refrigerate for 20 to 30 minutes, or up to 8 hours.
Grill! Preheat your grill to medium-high heat. Take the fish steaks out of the marinade and shake off any excess. Place on the hot grill for about 5 to 7 minutes per side, or until the steaks are cooked through and opaque. Swordfish is cooked through when the internal temperature registers at 145˚F. 
Enjoy. Remove the swordfish steaks from the grill, garnish with parsley, and serve with lemon wedges. 
How Do You Know When Swordfish Is Done on the Grill?
The best way to be sure your fish is cooked properly is to use an instant-read thermometer. You want the steaks to be cooked to an internal temperature of 145˚F. However, if you don't have a meat thermometer to use, you can test the swordfish for doneness by making sure it's white and opaque, and flakes easily with a fork.
Tips for the Best Grilled Swordfish Steaks
What else should you know about making this dish? As a matter of fact, I do have a couple more tips to share. Read on, and happy cooking!
Frozen Fish: Many of us learned that fresh is best, while frozen is slightly inferior (or, okay, downright second-class food). But, in the case of seafood, you may actually find better quality in your freezer case. Seafood of all kinds spoils very rapidly, which is why the best, freshest catch is almost always closest to the coast. If you aren't lucky enough to have access to a same-day-catch selection, try looking for high-quality frozen instead. It's usually cleaned and frozen very quickly after being caught, which can make it a fresher option than "fresh" fish that's been sitting behind glass all day.
Pat It Dry: Patting the swordfish steaks dry before you marinate is a good idea. It removes excess liquid and allows that flavorful marinade to get right to the surface of the fish.
Thick Steaks for Grilling: Avoid the dreaded moment when your fish falls apart by sticking with steaks that are about 1-inch thick.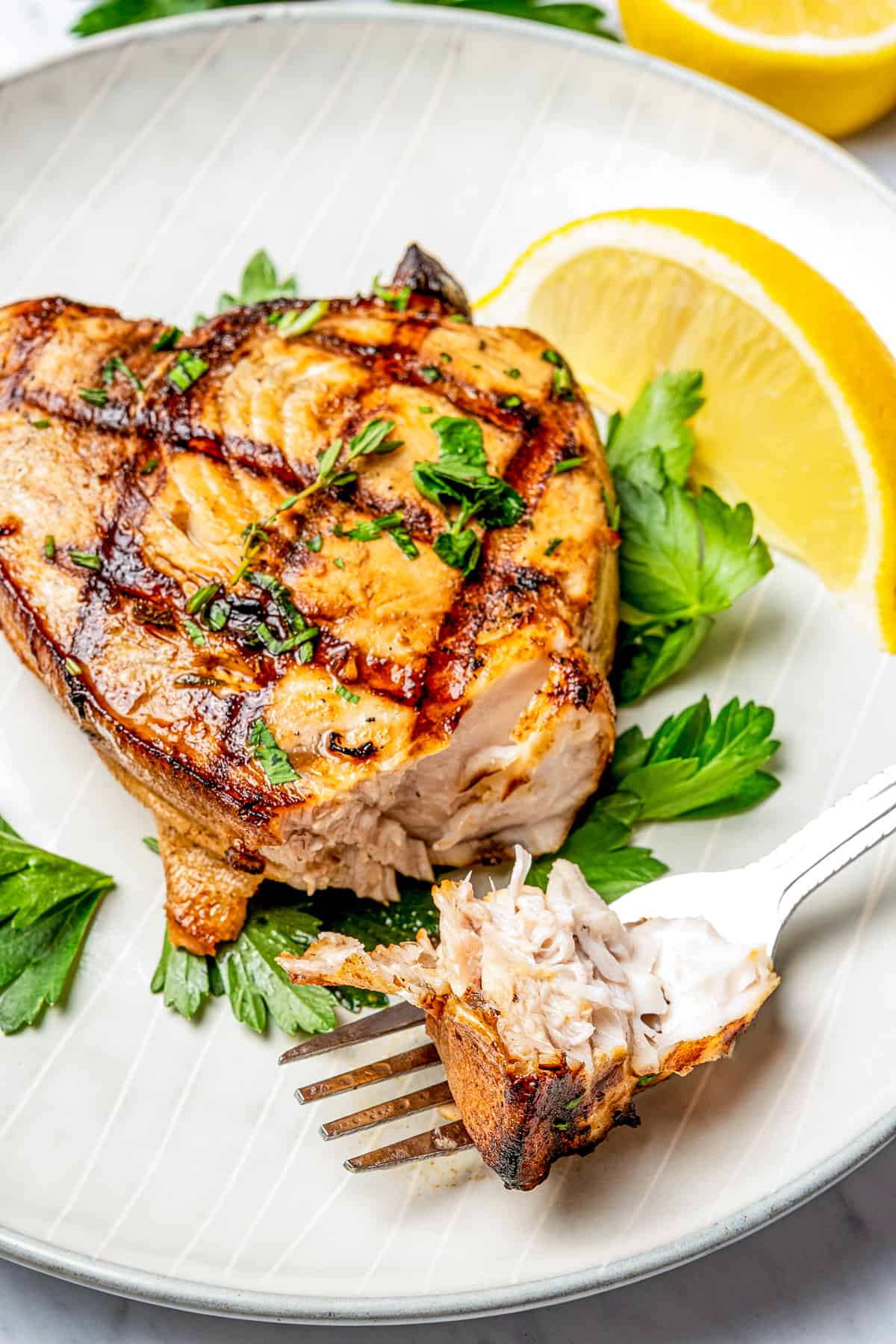 What to Serve with Grilled Swordfish
To serve, try making a classic side dish or two. These simple recipes are great with lemon-herb fish! 
Potatoes: Small, waxy potatoes are just right with any kind of fish fillet. Boil them and dress them with butter, or try these Crispy Air Fryer Potatoes with Herb Butter for a little more texture. Yum!
Chopped Salad: A crunchy salad is another perfect side, especially this ultra-flavorful, super satisfying Radish Cucumber and Tomato Salad with a creamy dressing.
Bruschetta: There are all kinds of great ways to make bruschetta, but one of my favorites is this garlicky Mushroom Bruschetta recipe. Each piece is a little slice of heaven!
Storing and Reheating Instructions
To store, place leftover swordfish steaks in an airtight container or zip top bag. Refrigerate for up to 3 days.
To reheat, place the fish steaks in a rimmed baking sheet, and cover with foil. Bake at 350°F until heated through.
Can I Freeze Leftover Swordfish Steaks?
Yes, these can be frozen to reheat later. Just cool them down, wrap them tightly, and store in freezer bags.
They should keep frozen for up to 2 months. Thaw before reheating.
ENJOY!
Place the swordfish in a large bowl or a resealable bag.

In a small mixing bowl combine the olive oil, garlic, soy sauce, lemon juice, red wine vinegar, rosemary, thyme, salt, and pepper; whisk until well incorporated.

Pour the marinade over the swordfish and seal the bag. (Or cover the bowl)

Place in the fridge for 20 to 30 minutes, or up to 8 hours.

Remove the swordfish from the bag; discard the marinade.

Preheat your grill to medium-high heat.

Grill the swordfish steaks for about 5 to 7 minutes per side, or until cooked through and opaque. Swordfish is cooked through when internal temperature registers at 145˚F.

Remove from grill.

Garnish with parsley and serve with lemon wedges.
Calories: 334 kcal | Carbohydrates: 2 g | Protein: 29 g | Fat: 23 g | Saturated Fat: 4 g | Polyunsaturated Fat: 3 g | Monounsaturated Fat: 14 g | Trans Fat: 0.1 g | Cholesterol: 94 mg | Sodium: 549 mg | Potassium: 642 mg | Fiber: 0.2 g | Sugar: 0.2 g | Vitamin A: 196 IU | Vitamin C: 3 mg | Calcium: 18 mg | Iron: 1 mg | Net Carbs: 2 g
Nutritional info is an estimate and provided as courtesy. Values may vary according to the ingredients and tools used. Please use your preferred nutritional calculator for more detailed info.
More Perfect Seafood Recipes